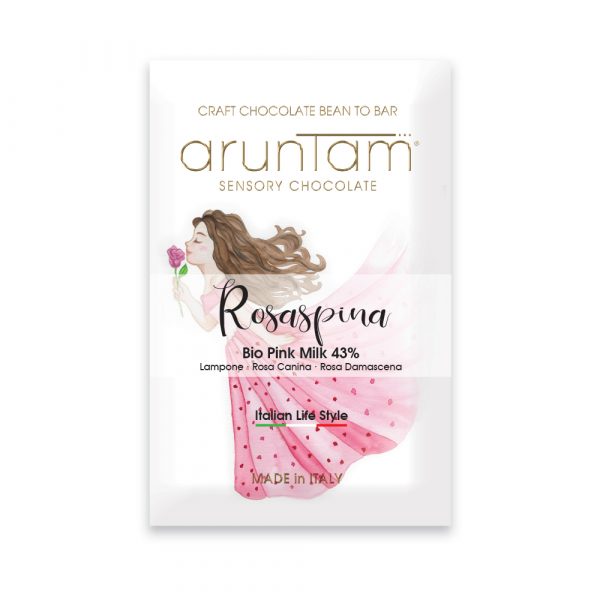 Rosaspina
Once upon a time… a little princess loved a special chocolate with a healthy secret, able to unveil, among its notes of roses an red fruit, how to taste a magic world.
The innovative chocolate bar Rosaspina – Pink Milk – is characterized by the natural rose color, obtained by the skillful blend of the Single Origin Cacao from Idukki, in the Kerala Region in India, Organic Cacao Butter from Ecuador with raspberries, rose hip – renowned for their beneficial properties – and the most precious of all the roses: Damask Rose. An explosion of flavors, unique taste sensations and a genuine revelation for sweet- tooths as well as for who pays attention to a healthy lifestyle. Enjoy every bit of it!
Ingredients: organic Ecuador cacao butter, organic skimmed milk, organic cane sugar, organic India cacao beans, organic freeze-dried raspberry, organic rose hip powder, organic damask rose petals; Emulsifier: organic sunflower lecithin; organic damask rose essential oil. Contains milk and may contain traces of nuts.
Notes: characterised by a peculiar natural rose colour, this chocolate is particularly well balanced with balsamic freshness, intense notes of rose and delicate notes of red fruit.
Certification: organic.
Nutritional values 100 g: Energy 2420 kJ / 576 kcal; Fat 40 g, of which saturated 25.9 g; Carbohydrates 43.9 g, of which sugars 42.7 g; Protein 10.5 g, Salt 0.4 g.
Net Weight: 50 g